Columbus Disorderly Conduct Lawyer
Disorderly conduct in Ohio is listed among "offenses against the public peace" under Ohio law. Disorderly conduct in Ohio is not usually considered a serious crime, but in some cases it can carry jail time and a significant fine.
The other offenses against public peace, like inciting violence, rioting, aggravated riot, failure to disperse, misconduct at emergency, telecommunications harassment, etc. are generally more serious crimes and carry harsher sentences than disorderly conduct. 1
Still, if you are facing charges for disorderly conduct in Ohio, it is no laughing matter. Even if you feel you are wrongly accused, it takes a good lawyer to prove that to the judge. And remember, a criminal record, however petty, can stain your reputation and make it difficult for you to find future employment. Call Attorney Adam Burke now at (614) 280-9122 for your free consultation.
Definition: Disorderly Conduct in Ohio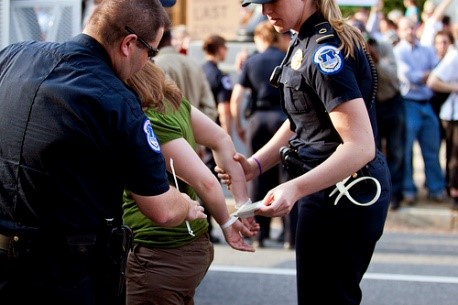 By law, a person is guilty of disorderly conduct in Ohio if he or she recklessly causes an annoyance, inconvenience, or alarm to another person by:
Fighting, threatening to harm a person or a person's property, or engaging in violent behavior.
Making unreasonable amounts of noise, or uttering a coarse and offensive word, or making an offensive gesture, or using abusive language with someone
Insulting someone, taunting or issuing challenges with view to provoke a violent response
Hindering the free movement of people on a public road or property
Endangering a person or a person's property by creating a situation that serves no reasonable cause
Ohio law also has a separate section for those who indulge in heavy drinking. A person can be accused of disorderly conduct while intoxicated if he or she:
Engages in behavior that is likely to cause offense, inconvenience, annoyance, or alarm to a person
Engages in behavior that could cause harm to a person, or the person's property
Ohio Disorderly Conduct Penalties
Disorderly conduct is a minor misdemeanor in most circumstances. For a minor misdemeanor, you have to pay $150 in fines, with absolutely no jail time.
However, in cases where the disorderly conduct was carried out despite a reasonable warning to desist, or near a school, or around an emergency facility person or a law enforcement officer when engaged in duty, it is a misdemeanor of the 4th degree. A 4th degree misdemeanor carries a jail sentence of up to 30 days and fines of up to $250. 2
Attorney Adam Burke Llc — Columbus, Ohio Disorderly Conduct Attorney
If you have been arrested for disorderly conduct in Ohio, it is in your best interest to hire an attorney so that you know your rights and options in this situation. An experienced defense attorney will make every effort to help you avoid the most severe penalties. Contact Attorney Adam Burke Llc for your free consultation at (614) 280-9122.